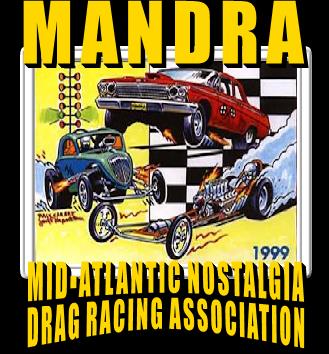 Copyright © 2019 by "MANDRA Racing"
All Rights reserved
E-Mail: nostalgiadragcars@outlook.com
Island Recap (4-27-2019)

It was a cold, windy, dreary night 'til we completed the first 2019 MANDRA race at Island Dragway. But the competition was excellent and everyone seemed to have a good day of racing.

AKL Racing was the days sponsor for the winners plaques, the Iron Man Belt, eh er, Iron Girl Belt, eh, er, (well it was leather anyway), and a purse for the winner, runner up and semi-finalists. Thank you Tony and Kim.

Carly Boyer was the big winner and as far as anyone could remember became the first female winner of a MANDRA race. Congratulations to Carly.

With the weather obviously being a factor only 12 cars were at the first race, including new member John Harris. Pat Brewer was unable to make the call for first round giving Carly Boyer the bye run with .005 reaction times on both time runs.

There were 3 cars in the semi-finals with Mark Santee getting the bye run and Carly Boyer defeating Art Hand to set up the final. Mark Santee had an advantage at the starting line but was too quick at the finish line with the win going to Carly.

I would like to thank everyone who endured the windy cold day.
Lets look forward to the next race Numidia Dragway May 11th.

Merritt

Numidia Recap (5-11-2019)

We had a great day of racing at Numidia Dragway with plenty of warm sunshine most of the day. Jim Mullins' "Blue Oval Racing" sponsored the plaques for the day and Barbara Sommers "Better Half Racing" sponsored a payout. 25 MANDRA cars were at Numidia.

Semi-final round action saw Randy Campbell up against Bill Wert, who did an excellent job driving the English Bros Studebaker gasser for the first time, with Randy taking the win. Mark Santee had a bye run into the final.

Mark Santee was the standout of the day taking the win in the final by .004 over Randy Campbell, Randy made his first race of the season count with the runner up position. The win moved Mark into the points lead, followed by Carly Boyer and Art Hand.

MANDRAs' first consolation race was a success the semi-final pitted Brian Yarrison against Tim Hansberry with Brian going on to the final
to race
Merritt Snyder who had a bye run into the final. Brian came out the winner when Merritt had a .006 red light at the start.

MANDRA racing will continue in two weeks at Beaver Springs Dragway. MANDRA will have another consolation race at Beaver Springs on Saturday only. Lets have a big turnout to show support for Beaver Springs.

Hope to see everyone there,
Merritt

---
Beaver Springs Recap
(May 25th, 2019)
(May 26th Rained Out)

Sunshine greeted MANDRA racers Saturday morning at Beaver Springs with 29 cars on hand for competition with Charlie Innerst's, ARC Plasma Cutting, sponsoring Saturdays winners plaques and payout.

We would like to recognize 3 new members Rich Smith with a 1970 Opal GT, Steve Kaiser with a 1970 Plymouth Hemi "Cuda" and Kim Walker with a 1964 Plymouth Belvedere with a 426 Max Wedge.

Because of the 29 car field there was a first time payout to quarter finalists, congratulations to Bob English, Tony Picone, Bob Maulick and Randy Campbell.

In the semi-finals Bill Wert defeated Mark English and Merritt Snyder defeated John Wise, setting up a Studebaker vs Comet final.

Bill Wert has been doing so well lately rumor is he wants to trade in his Camaro for a Studebaker gasser.

It was a close race in the finals, with only a .005 reaction time difference at the starting line, Bill crossed the finish line first but was .009 too quick with an 11.69 on his 11.70 dial, Merritt ran a 10.37 on his 10.34 dial for the win.

Sunshine greeted 24 MANDRA racers Sunday morning too, but it didn't last. The Sunday race was rained out and will be rescheduled at Beaver Springs. The only date off the table for rescheduling is the weekend of June 15 & 16 due to the NHRA Hot Rod reunion at Bowling Green, KY.

Be prepared for the Ronald McDonald House charity race at Maple Grove on Saturday. Lets have a 32 car field, or more. Details tomorrow.

Merritt

Note: To clarify the Beaver Springs race will be rescheduled, we do not have a date yet, but the rescheduled race will NOT interfere with the NHRA Hot Rod Reunion June 15 & 16.

In recent years MANRA members have made numerous requests for a "Powder Puff" race at one of our events. Kim Picone has 6 or 7 confirmed participants. Any other members wishing to participate please speak with Kim and we will try to set up a location and date.

Have a great day.

Merritt

---
---
Maple Grove Recap (1 June 2019)

Saturday at Maple Grove for the Ronald McDonald House charity race provided another great day of MANDRA racing.

John Rose and Iron Horse Construction sponsored MANDRA providing some Cool custom made trophies, a Purse for the Winner, Runner up and Semi-Finalists and a few other goodies.

One race in the quarter-finals brought the two English brothers together for the second time in two races with Bob and Mark showing their strong competitive skills, unfortunately for Mark it was over at the start when Mark had a .003 red light, Bob left with a .001 green light to win the round. (looks like great family competition)

This moved Bob to the semi-finals to face Tony Picone with Bob taking the win, the other semi-final faced a hot Bill Wert against Charlie Innerst, Bill had a better reaction time but Charlie ran closer to his dial in for the win.

The final had Bob English and Charlie Innerst in competition with Charlie getting a better light but Bob ran closer to his dial in for the win.

After the first four MANDRA races our new points leader is Bill Wert.

Merritt

---
Cecil County Recap (8 June 2019)

Good morning race fans,

MANDRA racers put the fifth race of the season in the books this weekend with the nostalgia race at Cecil County. 34 MANDRA cars were on hand for the event, unfortunately Charlie Innerst left all his oil and coolant in the shutdown area and reduced the field to 33 for first round. This created a first round bye run for John Hake with a .001 reaction time.

Question of the day was who's John Quinn? John is a new member from Mechanicsville, MD with a sharp looking orange 55 Chevy who "earned" his way to the winners circle at Cecil County.

The quarter finals saw John Quinn against Mark Santee with Mark having a better reaction time but unable to run his dial in and Carly Boyer racing Randy Campbell, Carly was unable to run her dial in due to a failing transmission and Randy moved on to the semi-finals, Mark English had a bye run.

In the semi-finals Mark English defeated Randy Campbell to earn a spot in the finals and John Quinn had a bye run. The final pitted John Quinn against Mark English with Mark getting a -.011 red light to end his day.

Congratulations to John Quinn for a successful first day with MANDRA.

After Cecil County Carly Boyer and Mark Santee are tie for first place in points.

Next race will be Mason Dixon on July 6th, see everyone there.

Merritt

---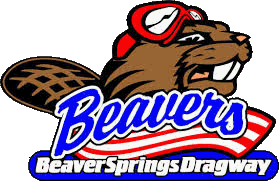 2019 Points Schedule
2019 Events of Interest